Take a look at some recent work we have undertaken.
We made a book case who had lots of wonderful books.  They required adjustable shelving and wanted a light wood finish but in an affordable material.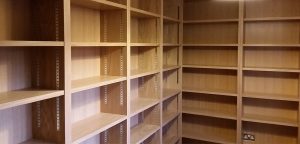 We settled on an Oak veneered MDF with a clear polyvine varnish finish. We not only helped design around things like electrical sockets, and make the shelving, but we also fitted into their home.
We created a lounge cabinet was much the same, Light finish, veneered Oak MDF Crown cut with a clear polyvine varnish.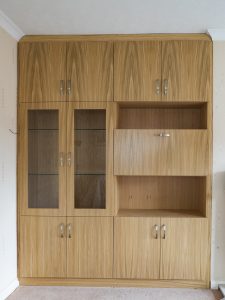 The client wanted a drop down drinks style cabinet in one portion and glazed doors in another section.  They had glass shelves in the glass door sections.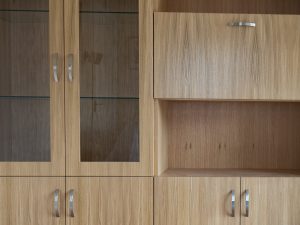 As with many jobs we work closely with you,  our client came in many times during manufacturing, among other things they wanted the doors to be at certain heights as they had a new sofa arriving and the cabinet doors had to be able to clear the sofa arms.  This was done and the finished cabinet was delivered and fitted for them.
Lastly we have just finished something for another sitting room.  Again using modern materials to ensure a tight, perfect finish, the client wanted solid Black American Walnut and sections of Veneered Walnut MDF to house their  stereo and TV equipment.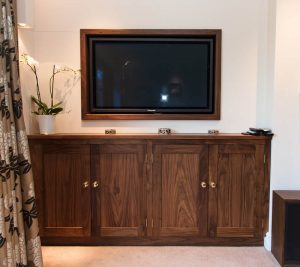 This particular piece of furniture, didn't need us to fir it, but we delivered it along with some matching doors made of Walnut to compliment the cabinet.